David White
Manager - Peanuts Education (after-school education institute), Taiwan
Researcher - Computer Science
Teacher - Computer Science and English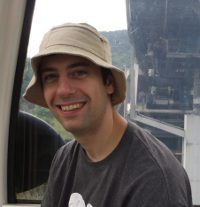 ---
Current Research
My current research concerns the development of techniques to automatically learn the dynamic data structure behaviour in a program by analysing traces of its execution. For example, when considering a program that employs a linked list to implement a queue, we would like to automatically learn information such as the shape of the data structure (singly linked list), its behaviour (only operations consistent with a queue are permitted) and any relevant additional information (such as whether the list is implemented using a header node). The information determined from such an analysis will be used to inform formal verification, understand legacy code and aid in reverse engineering.
Keywords: program comprehension, dynamic analysis, pointer programs, machine learning, pattern recognition
Academic Publications
Thesis and Projects
D. White. Generative Models for Graphs. PhD Thesis, 2009. (PDF)
D. White. Parallelizing Reinforcement Learning by Periodic Merging of Function Approximators. Fourth Year Undergraduate Project, 2005.
D. White. From SCADE to Lego Mindstorms. Third Year Undergraduate Project, 2004.
Grants and Scholarships
Case for support co-author on: G. Lüttgen. Learning Data Structure Behaviour from Executions of Pointer Programs. Deutsche Forschungsgemeinschaft (DFG, LU 1748/4-1), 2014. (PDF)
Recipient of EPSRC Postgraduate Research Scholarship, 2005-2008.
Recipient of Nuffield Foundation Undergraduate Research Bursary, 2004.
Archived Research